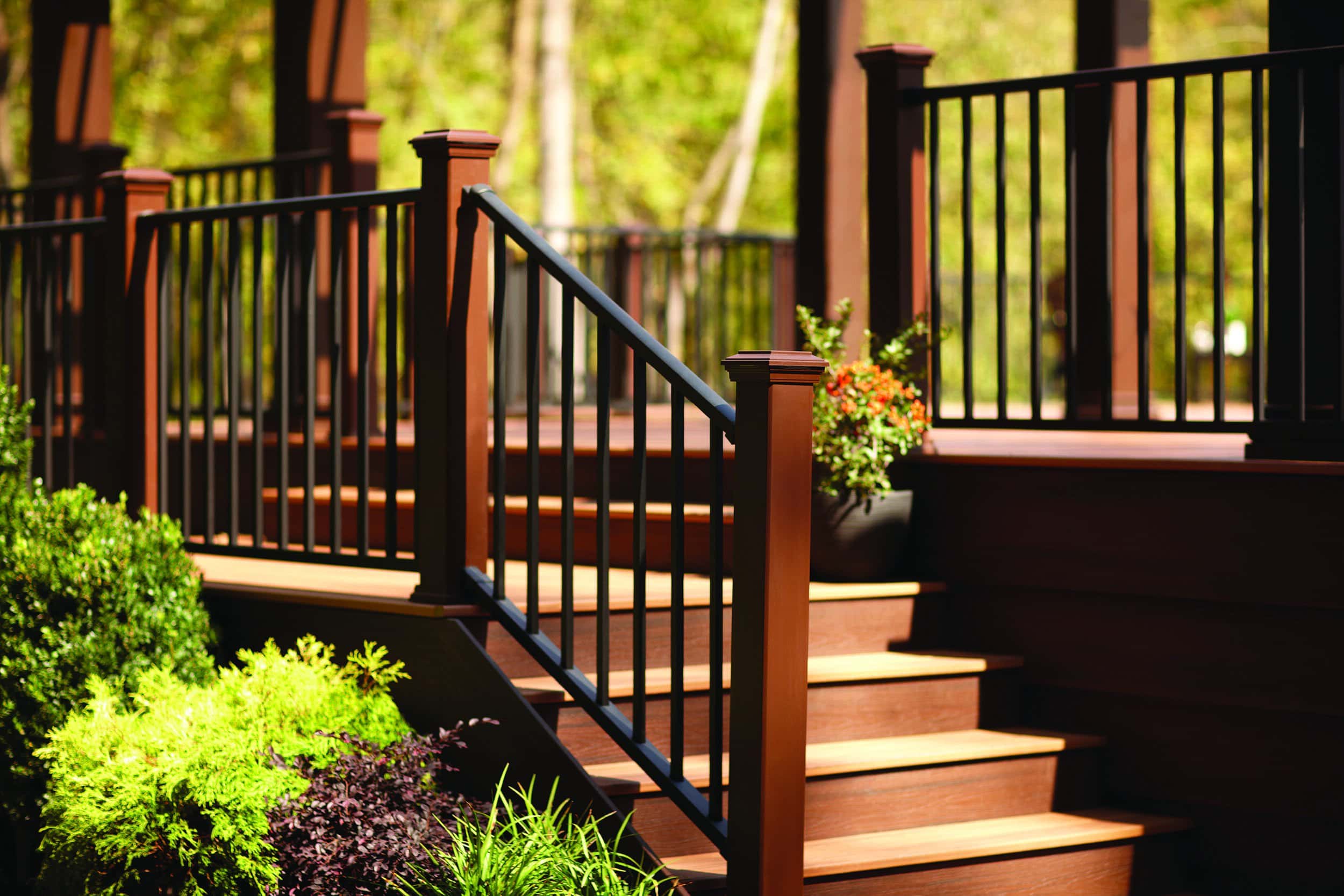 Deck Railing
The perfect complement to your deck
We carry a variety of aluminum, glass and composite railings to complement your deck. Wood was once the more common option, but now, maintenance-free models have become the new standard. With 25+ year warranties on all our railing, you can be sure it will last.
Fortress is the number one brand in North America for aluminum picket, glass and cable railing.
We have a selection of panels and fittings that make this product very easy to install. You can purchase 6′ or 8′ lengths – depending on your preference -and cut them to any size. The railings come in standard 42″, and 36″ heights for regular and low railings respectively.
Special brackets are available for angles, corners, and stairs, there are extra-low cut posts to accommodate unbroken top rails, and the posts are hollow to allow you to stretch hidden lighting wires.
Fortress meets or exceeds performance requirements for The Ontario Building Code and The Canadian Building and Fire Codes.
All major brands of composite decking such as Trex, Fiberon, Azek and Timbertech provide a composite railing system option. Homeowners have a unique opportunity to choose from a variety of composite decking collections and include it as part of their railing. Post sleeves, balusters, and top-rails will all be composite.
With a modern design that offers minimal view obstruction, Century Scenic Railing Systems are perfect for businesses with open office spaces.
The system includes posts and custom 10mm glass panels which slide into place easily making it easy to install – even if you're not an experienced builder! This type of railing has also been approved by code in Ontario.
Deck Railing Pricing
| Railing | Price per ln. f. | Colours | Details |
| --- | --- | --- | --- |
| | $65 | Matte Black, Glossy Black | Standard, Durable, Easy install |
| Fortress Glass | $120 | Matte Black, Glossy Black | Standard, Durable, Easy install |
| Fortress Cable | $160 | Matte Black, Glossy Black | Extremely Durable, Easy install |
| Century Railing | $140 | Custom | Very customizable |
| Composite Railing | $80 | Black, White, Brown | Drink Rails Available |
| Composite Fence | $100 | Grey, Brown | 6ft Tall Privacy Screen/Wall |
Prices vary quite a bit based on colour and design, please contact us at 888-788-6788 for details and exact prices.
Composite Deck Railing near you