Advantages of Ipe Decking
Strong and Hard. Ipe is the hardest material to scratch and it feels more solid than any wood or composite decking.
Long Lasting. Ipe decks are one of the most durable materials on earth, with an expected lifespan up to 100 years. It will not rot or decay in any type of environment – even if you live next door to termites.
Naturally Beautiful. The best thing about a composite deck product is how realistic it can be. Some products have improved over time and do an excellent job mimicking the natural look, but nothing beats real wood for its authenticity.
Low Maintenance. Ipe can maintain its rich brown color with or without the application of oil. If left untreated, it will naturally grey over time as well- there's no need for you to worry about your beautiful wood being destroyed by fading anytime soon.
Sustainably Harvested. Ipe is a renewable and sustainable material that comes from carefully managed forests. For every tree cut down, 10 new ones are planted in its place.
Many Profiles. We carry Ipe decking in lengths from 8 to 20 feet. Apart from the beautiful and durable wood, we also offer siding for your home or business that is made of this amazing material.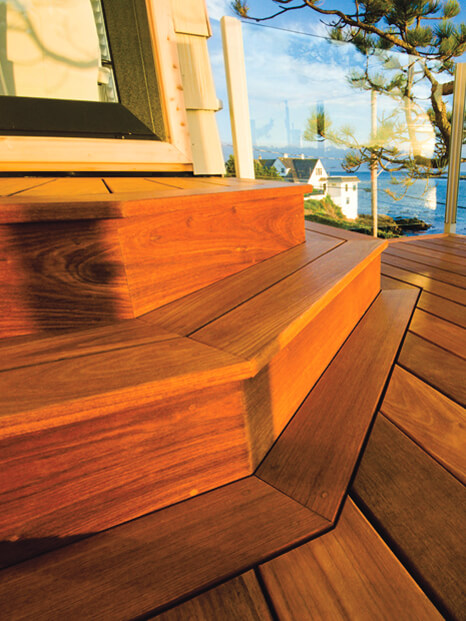 Profiles of Ipe that We Carry
Decking Profiles – In Stock
Profile
Application
Description
5/4×6 Grooved
Decking
This is a very common type of decking. It's installed with an easy-to use clip, called Ipe Clips. 5/4×6 Ipe grooved decking is available in 8′, 10′, 12′, 14′, 16′, 18′ and 20′ lengths.
5/4×6 Solid
Decking/Fascia
The solid edge boards are used for decking around the perimeter, as well as in between panels to prevent moisture from seeping into your home.
When boards come preassembled, they're typically attached with trim screws or a screw and plug system.
Other Profiles – Special Order
| | | |
| --- | --- | --- |
| 1×4 Ipe | Screens | The Deck Profile is the perfect solution for your outdoor needs. It's durable and provides an attractive appearance, which will keep it looking good over time. |
| 2×4 Ipe | Railings | The construction of a deck can be rewarding, especially when you get to design the railings and pergolas for your new creations. |
| 2×6 Ipe | Pergola | 2×6 Ipe is a tough material that won't rot in high humidity environments. It can be used for deck pergolas and framing, so you don't have to worry about your beautiful home being damaged by water or weather. |
| 2×8 | Pergola | The profile of this beam is used for pergola and deck framing. |
| 2×10 | Pergola | The profile of this beam is used for pergola and deck framing. |
| 1×6 | Skirting | This type of deck is especially well-suited for skirting and other vertical applications. You can attach it with either ipe trim screws or plugs, depending on what you need the project to look like. |
| 1×8 | Steps | This profile is perfect for use in stairs or as fascia. |
We also offer other profiles and custom milling services. Other profiles that we sell are 1×4 tongue and groove, 1×6 tongue and groove (commonly used for exterior ceilings). For Ipe siding, we have a special profile that makes installation quick and eliminates the need for visible fasteners. We also carry larger sizes of Ipe such as 4×4, 6×6 and even 8×8. With our wide selection of Ipe profiles, you're guaranteed to find what your budget needs.